Across England, Local Transport Authorities (LTAs) and operators are expected to move quickly and collaboratively to meet the fast-paced timelines set out by the Department for Transport in the National Bus Strategy. Not meeting the timelines risks significant shortfalls in funding, which would severely impact bus service provisions. However, while fiscal pressures drive the imperative for implementing the Strategy, the opportunity to gain a greater say over local bus services is welcomed by authorities.
For the past forty years, bus services in England have been deregulated and primarily operated on a commercial basis by private sector companies. Where and when bus routes run is decided unilaterally by commercial operators, who usually set their own prices with their own disjointed ticketing systems. Occasionally services are subsidised by Local Transport Authorities where commercial operators deem them unprofitable, but that only makes up a fraction of the network.
The Department for Transport recognises that this commercial status quo doesn't always work for passengers. There is often no incentive for integrated ticketing or for operators to run services that are not profitable outside of peak hours. Democratically there is little or no visibility for the public of the role that LTAs play in supporting buses or data by which the local electorate can hold their councillors or Mayor to account for their part in improving bus services.
'Bus Back Better' is not just about ensuring continuity in funding, but rather it offers an opportunity for a better way of running local bus services. Planning and network analysis tools like Podaris can play an essential role in empowering officers and transport planners that may have faced software, skills, or funding gaps to collaborate closely with bus operators under commercial models.
What is the National Bus Strategy?
In March 2021, the UK Government delivered an ambitious and long-awaited National Bus Strategy for England. Branded 'Bus Back Better', it has been trumpeted by the UK government as "the most ambitious shake-up of the bus sector in a generation" - a £3b "bus revolution", designed to bring more frequent, reliable, easier to use and cheaper bus services to passengers in England.
In particular, it recognises COVID-19 as the catalyst for greater cooperation between Local Transport Authorities, and puts collaboration at the heart of the strategy, requiring authorities to form either enhanced partnerships or franchising arrangements with operators in order to unlock, crucially needed, transformational funding.
Franchising or an Enhanced Partnership?
By the end of June 2021, all LTAs are expected to announce their intention to work towards either franchising or an Enhanced Partnership. Failure to do so will foreclose access to many funding streams, including the COVID 19 recovery funds and Bus Service Operator Grant payments. For most, the loss of these funding streams would devastate many service provisions, so while the timescales are challenging, there is every imperative to work to the Department for Transport's timelines.
It is expected that Enhanced Partnerships (EPs) will be the preferable option initially — and according to the latest guidance — for LTAs that are not mayoral combined authorities, EPs are the only option. EPs are legal agreements between LTAs and bus operators to improve local bus services. Unlike franchising, this is done through consultation and forms an eventual partnership plan. Ultimately the operator still plays an important role, but compared to the existing status quo of commercially managed services, LTAs have a much greater say. This collaborative way of working can present a challenge for resource-strapped local authorities, which may be facing skill gaps where services have previously been commercially managed.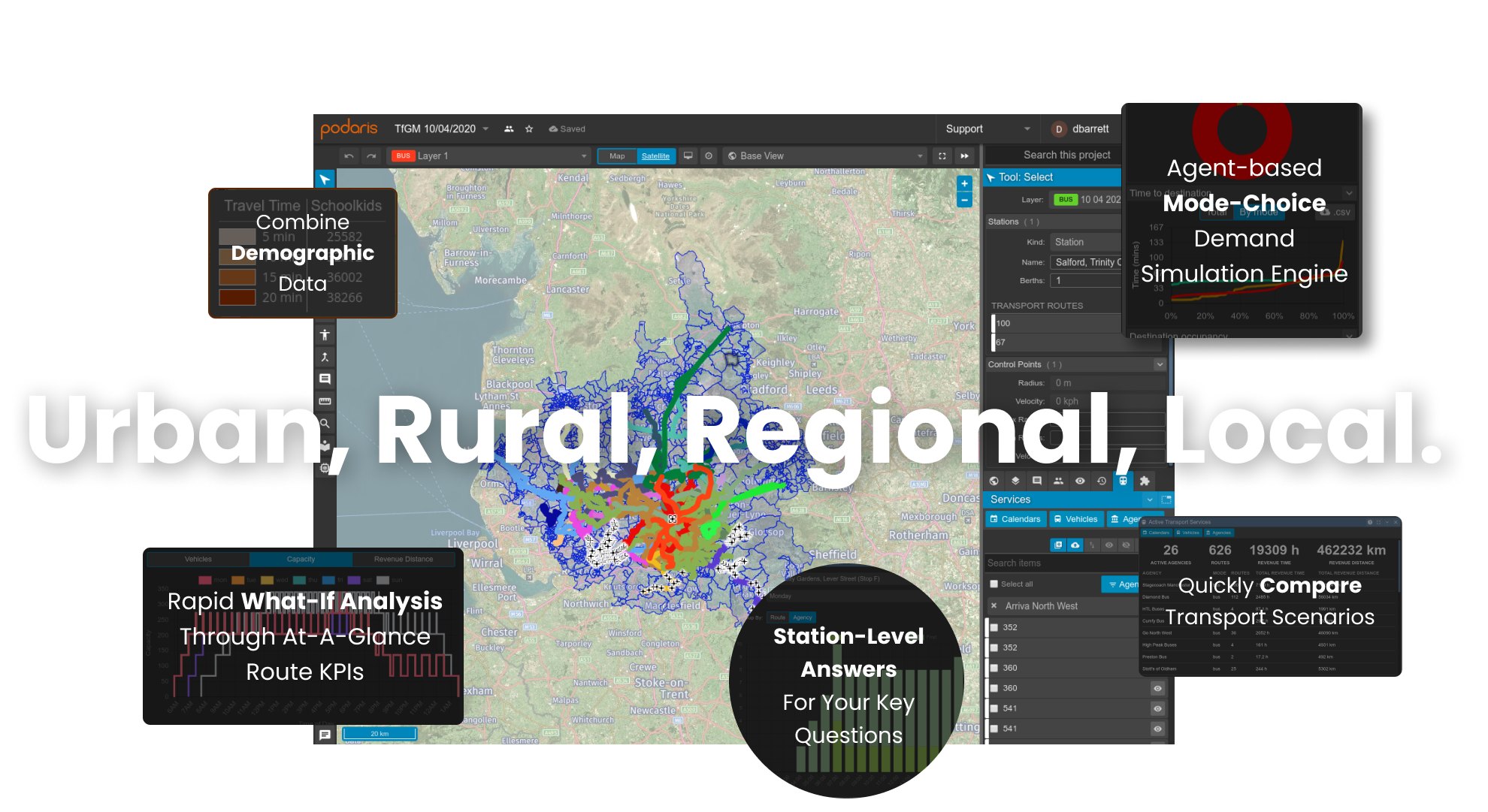 Since the Bus Services Act in 2017, franchising has grown increasingly popular. Transport for Greater Manchester (TfGM), on behalf of Greater Manchester Combined Authority (GMCA), recently secured widespread support at key milestone in their progress towards a franchised model. Unlike an EP, franchising offers a much greater level of control over bus services for an LTA. It is best known in the UK through the lens of Transport for London, which controls every aspect from planning to timetables, before finally putting services out for operators to bid for.
However, franchising is not a good fit for all LTAs. It generally requires a high level of density where there would be competition for contracts. LTAs desiring franchising would typically start with an Enhanced Partnership, as the process to enact franchising is lengthy and resource-intensive.
Digital collaboration tools like Podaris can play an essential role in helping to reduce lengthy feedback loops between LTAs, operators, and stakeholders during this crucial period.
While Enhanced Partnerships are the simpler of the two, they are still complex in their own right. Hertfordshire - one of the few existing examples - took an entire year to agree it's Enhanced Partnership. With less than a year between now and when the DfT will expect them to be up and running, the clock is ticking, and guidance is still limited. However, digital collaboration tools like Podaris can play an essential role in helping to reduce lengthy feedback loops between LTAs, operators, and stakeholders during this crucial period.
What is a Bus Service Improvement Plan?
As part of the National Bus Strategy, all LTAs will be required to quickly produce a Bus Service Improvement Plan (BSIP). The plan must outline the LTA's strategy for using their Enhanced Partnership or franchising scheme to deliver improved services, fully informed by local needs.
Just six weeks before LTAs were expected to declare their intention to pursue franchising or an Enhanced Partnership, the Department for Transport (DfT) has issued Guidance on BSIPs. Each LTA will have to submit their first BSIP to the DfT by the end of October 2021, which sets out a plan for how the LTA and operators can achieve the goals of the National Bus Strategy.
Whilst BSIPs only need to be outlines, they are expected to use operator, population and travel demand data to make services:
more frequent, with turn-up-and-go services on major routes and feeder or demand-responsive services to lower-density places.
faster and more reliable, with bus priority wherever necessary and where there is room.
cheaper, with more low, flat fares in towns and cities, lower point-to-point fares elsewhere, and more daily price capping everywhere.
more comprehensive, with overprovision on a few corridors reduced to boost provision elsewhere and better services in the evenings and weekends, not necessarily with conventional buses.
easier to understand, with simpler routes, common numbering, coordinated timetable change dates, good publicity, and comprehensive information online.
easier to use, with common tickets, passes and daily capping across all operators, simpler fares, contactless payment and protection of bus stations.
better integrated with other modes and each other, including more bus-rail interchange and integration and inter-bus transfers.
Both LTAs and operators will be expected to move quickly, and engagement with local stakeholders will follow as plans are developed. BSIPs will be 'living' documents intended to be regularly updated in collaboration with operators to ensure they can be kept relevant and meet the evolving needs of passengers.
What is Podaris, and how can it help with your BSIP?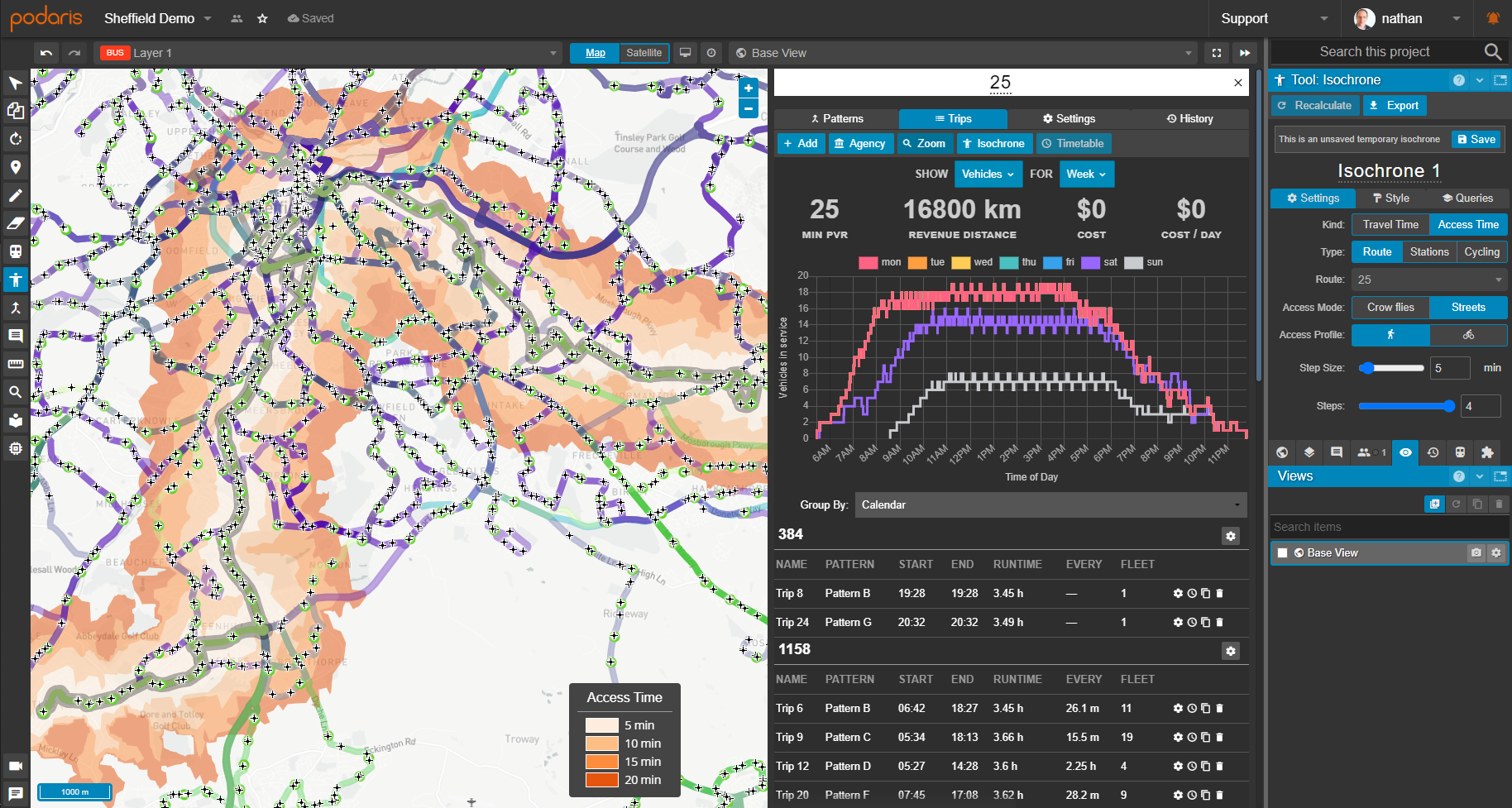 Podaris is a collaborative web-based platform for high-level multi-modal transport planning and analysis. Podaris is trusted by planners within local authorities, transport bodies, bus operators, and consultancies throughout the UK - and across the world!
Within the Podaris platform, officers or planners can quickly import existing bus networks, and easily propose changes, such as increasing frequency or merging routes. The potential consequences of these changes can be rapidly analysed against the goals of the BSIP, using population and demographic data. Scenarios can be shared interactively with stakeholders such as elected members or operators for feedback and collaborative co-design.
As a low-cost tool, which is easy to use for experts and non-experts alike, Podaris offers a powerful opportunity to support the creation and analysis of holistic Bus Service Improvement Plans. Whether to aid service design through network visualisation and analysis capabilities or to contrast and compare potential fare strategies using our innovative agent-based simulation engine, Podaris can provide the inputs needed to help prepare a BSIP quickly and efficiently.
This article is the first in our multi-part series about the National Bus Strategy and how Podaris can help LTAs and the transport planners supporting them. Subscribe to our newsletter to receive future articles, or if you can't wait and would like to learn more and discuss how Podaris can support you, please schedule a demo now!