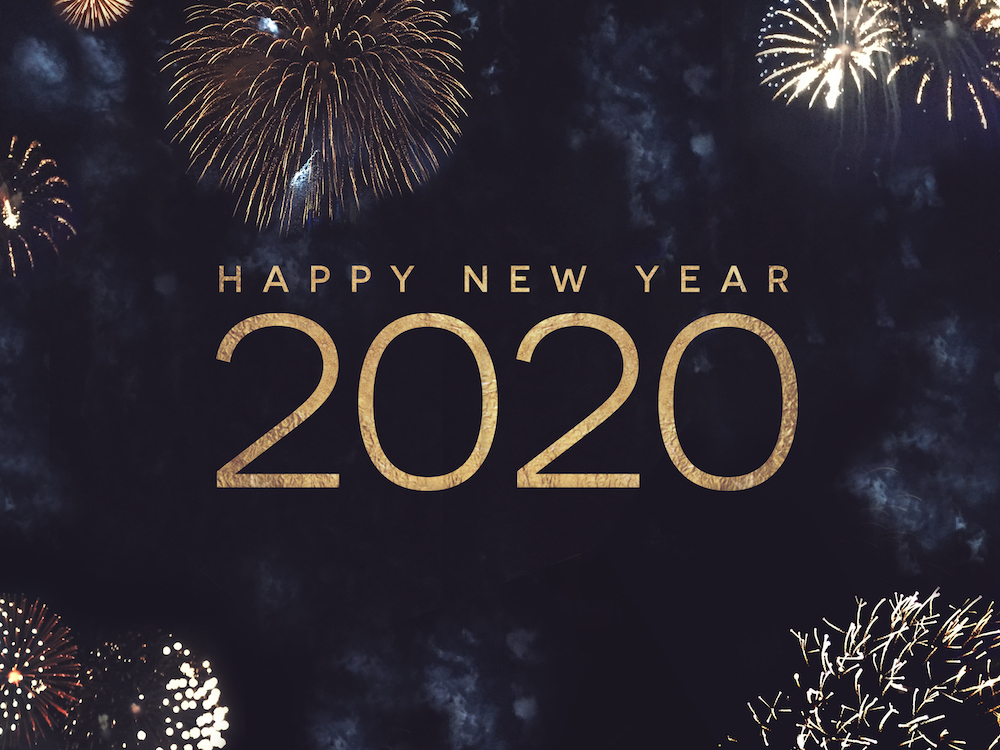 Happy 2020! As we move forward into the new year, let's take a moment to look back at what Podaris has done over the past year – and what you'll be seeing from us in 2020.
2019 was a milestone year in our product development. We launched a number of major new features, including:
Data layers – a way of incorporating GIS functionality into Podaris. This opens up new kinds of demographic analysis, visualisation, and more.
MultiLines – draw complex geometries of grouped lines, simplifying some of the more complex infrastructure drawing tasks.
An all-new Georeferencing tool – with a greatly enhanced user interface, allowing you to treat map-projected imagery as shared, versionable entities.
Podaris Enterprise – a version of Podaris which meets the needs of larger organisations.
There were also a number of significant events for our company:
We started 2019 by winning the European "GovTech" prize, and subsequently flew to Dubai to participate in the World Government Summit.
We joined the Wayra Intelligent Mobility accelerator, which in combination with the UK Connected Places Catapult, has given us fantastic access to new customers and investors.
We participated in the Podcar City conference in Silicon Valley, connecting with a number of cutting-edge transport companies.
This is just the tip of the iceberg, however. Behind the scenes, we've been working with several large customers – including a major European airport, and campus planners for large US tech company – to develop new functionality, much of which is already in use on their enterprise instances. In 2020, we will be bringing these capabilities to our general Podaris customers.
Upcoming Features
In February, we'll be launching our Scheduled Services capability. This long-awaited functionality will allow you to produce detailed, accurate timetables for schedule-based services such as trains and buses, and is a crucial step in our evolution towards becoming a fully integrated, fully multi-modal planning tool. This functionality will be fully compatible with GTFS and other industry-standard formats, ensuring interoperability with a wider ecosystem of planning and scheduling tools.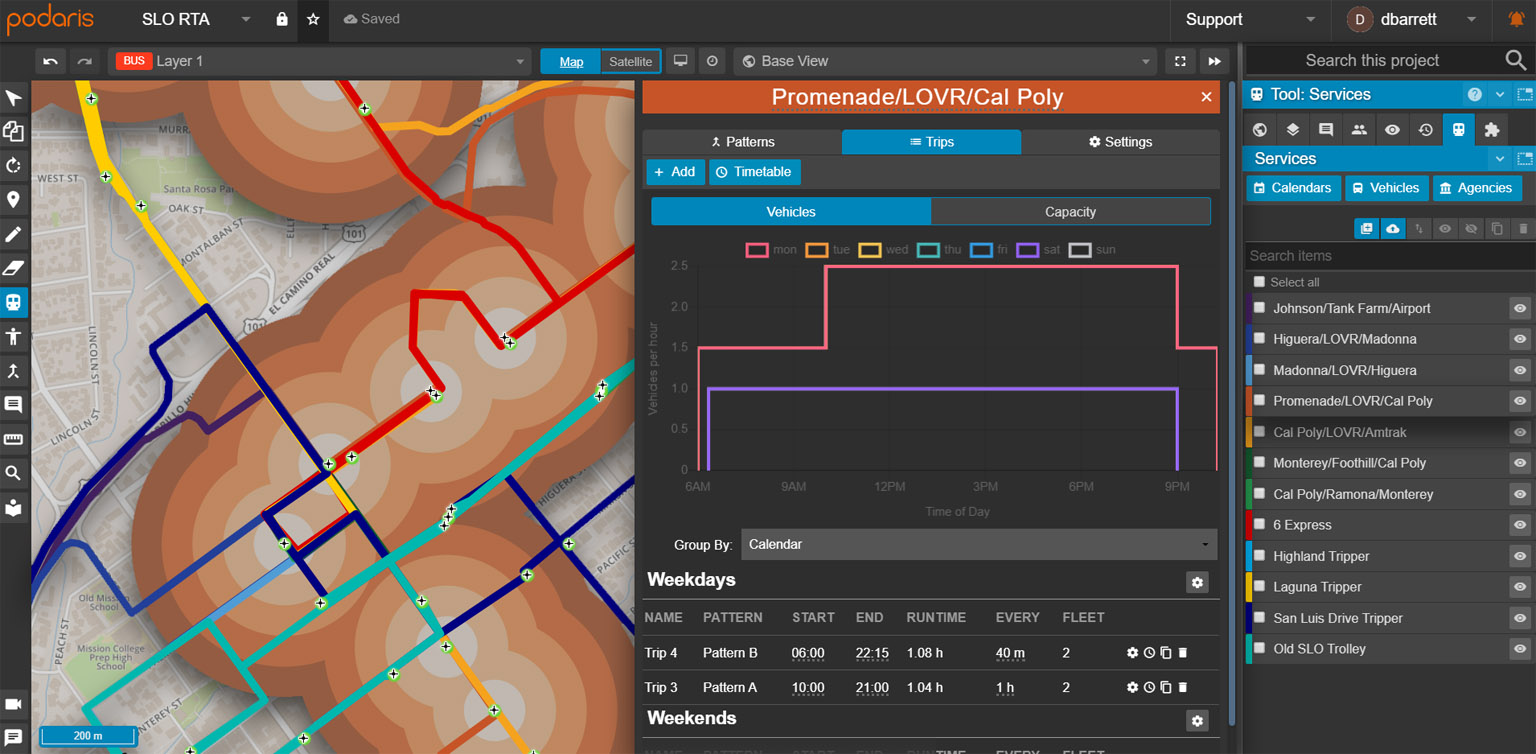 For buses, you won't have to draw the street network – Podaris knows where all existing streets are, as well as their speeds and other factors that affect travel time, and can automatically route as appropriate. We're also working on a capability for modifying the road network itself, which will be debuting later in the year.
Another major feature that will be launching later this year is Demand modelling. Building from the powerful Data layers feature introduced last year, you will be able to use GIS-like queries to create sophisticated travel-demand scenarios and modal preferences. You can then run simulations on the cloud to see what kind of mode share is achieved by different scenarios. We use an innovative agent-based modelling approach that accounts for end-to-end journey times across an entire urban area. This produces greater accuracy than traditional zonal modelling approaches, and is particularly important for understanding the interplay between scheduled services and demand-responsive systems.
Building on top of the demand modelling capabilities, we've also begun working on integrating microsimulation systems directly into Podaris. Here's a short video showing a Personal Rapid Transit system in action:
Microsimulation like this is the best way to understand the key characteristics of a demand-responsive system, such as waiting time, vehicle occupancy, empty vehicle movements, queue lengths, and more. While this particular example was built as part of a custom plug-in for a single customer, we're looking at ways to deploy this capability more broadly within Podaris. This particular simulator developed by Bengt Gustafsson of BeamWays AB as part of a very successful collaboration, integrating their existing "BeamEd" simulation software. But we recognise that no one microsimulator will be suitable for all purposes, so we want to develop a system that will allow us to interoperate with 3rd-party simulators of all kinds. If this is something that you're interested in, let us know!
There's plenty more in the pipeline which is still too soon to talk about, but be assured that 2020 will be a very exciting year in our development.
Upcoming Events
In 2020, we'll also be increasing our sales and marketing outreach, and will be making appearances at an increasing number of industry events. You can see us at:
February 6th, London, UK: Coinciding with the launch of our bus planning capabilities, Podaris will be exhibiting at the 6th annual The UK Bus Summit, demonstrating how Podaris can be used to rapidly plan and analyse new or existing routes.
February 11th - 12th, London, UK: Visit us during MOVE where we will be exhibiting our latest features at booth S10.
June 29th - July 2nd, Chicago, USA: We're presenting a paper at the American Society of Civil Engineers' 17th annual conference on Automated People Movers and Automated Transit Systems
Is there another event that you don't think we should miss? Let us know!
A growing team
We also expect to be growing our team throughout 2020. Look for more postings in the job listings soon. We'll be looking for software engineers, sales and marketing people, customer support people, and more. If you are interested in helping us shape the cities of the future, then drop us a line at jobs@podaris.com.