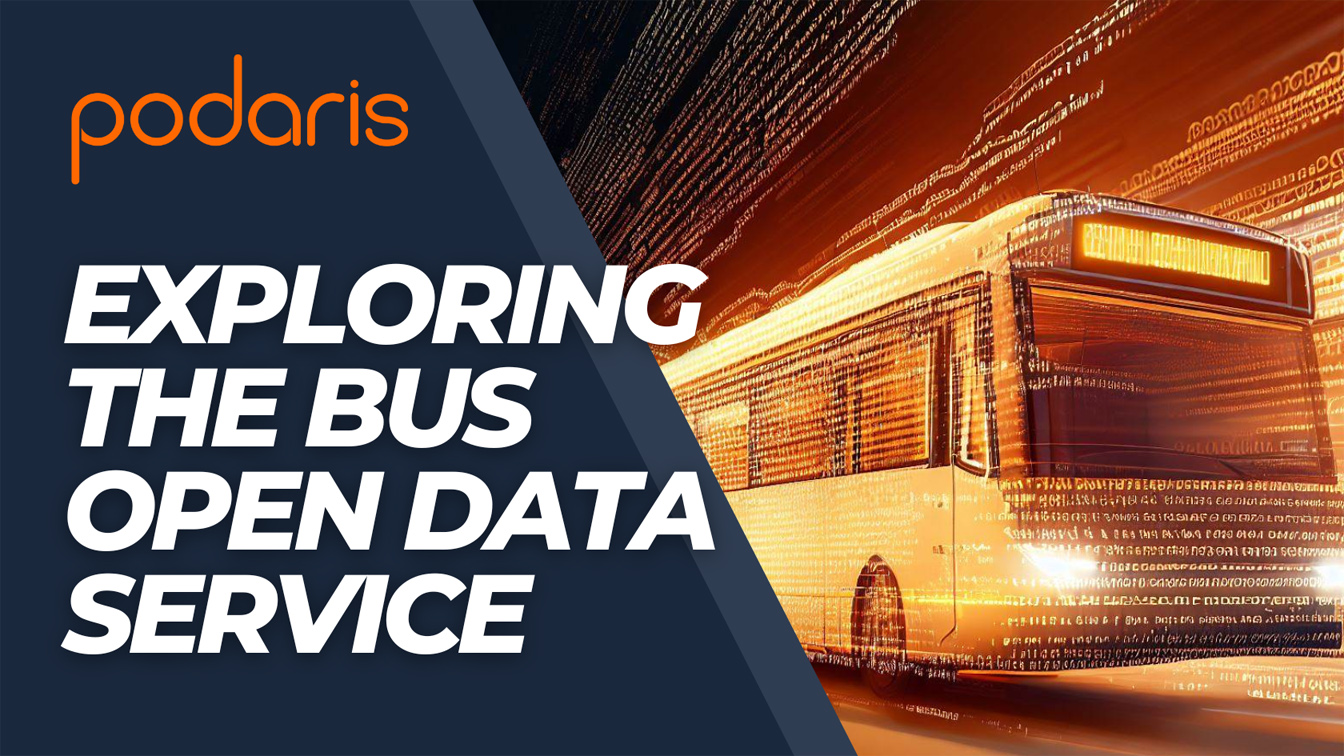 We've spoken a lot about the UK bus industry over the last few years - from overarching strategies to improve patronage and promote sustainability such as the National Bus Strategy and associated Bus Service Improvement Plans, to specific schemes such as the £2 bus fare cap, now extended until June.
We've also discussed how software such as Podaris can leverage data to help planners make more informed decisions and evaluate their transport services more rapidly and accurately than by traditional means. But what are the best sources of that data and how can you be assured that it will integrate effectively with your existing tools?
The Bus Open Data Service
The Bus Open Data Service (BODS) arose from the 2017 Bus Services Act mandate, as a portal through which timetables, routes, live locations, and fares data for buses in the UK can be accessed. With its release in 2020, BODS was designed as a reliable, centralised hub for downloading such data in common transit feed formats such as GTFS. Those behind the BODS initiative designed it to be a 'bedrock' for national transport infrastructure data for years to come and consider the service be a potential key driver in promoting modal shift from car to bus (by virtue of increased uptake of on-demand services by better informed consumers). For developers, researchers and planners, it offers a dramatically simplified means of sourcing UK bus data, including frequently updated live bus locations.
BODS data is currently available in a variety of formats. Daily timetable data is available as both TransXChange and GTFS feeds. Real-time vehicle location data is available in the SIRI-VM and GTFS-RT formats with an update frequency of every 10 seconds, and daily fares data is available in the NeTEx specification.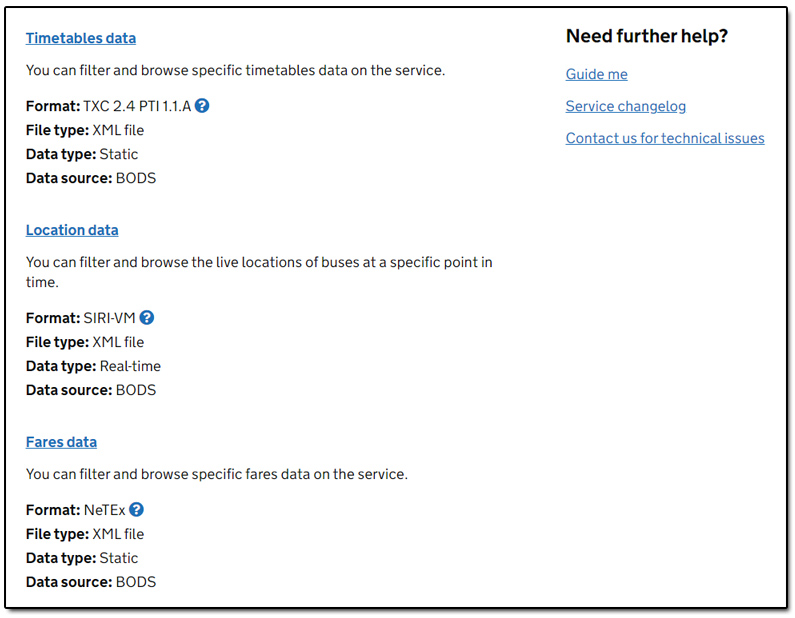 How to download from BODS
Once you have registered with the BODS service, there are a variety of ways to download and interact with the data. You can use the browse data page to view and download open data published by operators of local bus services. Here, timetables, location and fares data can be searched according to a specific operator or location. Usefully, this also gives you a visual overview of routes on various services and the ability to subscribe to that data (and be notified of updates).
The API section allows developers to create programmatic queries to download just the data they need or integrate the download process into their own software.
Downloading all data will allow you to bulk download all data for England, Wales and Scotland in either the TransXChange or GTFS formats, or select a specific region for download.
The Future of BODS
BODS was created in partnership between ITO World, the Department for Transport (DfT) and KPMG, and while it represents the DfT's vision of a bus data solution that serves as an easily accessible single source of truth, it is not without its detractors and limitations. Upon its inital rollout, many operators, especially smaller regional operators, struggled to provide the legally required data on account of using older generation ticketing systems, requiring labour intensive manual processing of BODS data].
Traveline, who operate their own (multi-mode) travel data service in the form of the Traveline National Dataset (TNDS) have a somewhat symbiotic relationship with BODS, in that approximately 50% of BODS GTFS data is sourced from TNDS. They recognise, however that BODS is not at present sufficiently comprehensive and consistent.
Going forward, Traveline intends to offer their dataset in parallel with BODS. They state that once BODS data is sufficiently comprehensive and consistent for each operator, they will merge its data with data sourced from LTAs to offer it as part of their own package.
As of March this year, Traveline stated that approximately 1,000 in scope bus services are currently missing from BODS. BODS supplier contracts will come to an end in 2023, creating an opportunity, as Traveline sees it, for improvement to the dataset in the future.
DfT also provide a tool for reporting and analytics of BODS data called Analyse Bus Open Data, or ABOD. ABOD has a variety of functions including a dashboard overview, vehicle journey analysis and corridor reporting, although it is currently only available to local authorities and operators.
Planning with BODS
Podaris provides a number of ways to work with GTFS and TransXChange data sourced from BODS. We provide a drag and drop import tool for importing route and timetable data in order to visualise, edit and analyse such data by a wide range of means including:
Travel-time and accessibility analysis of bus networks
Demographic queries targeting your networks
Corridor frequency analysis for segment-by-segment analysis of peak and average vehicle per hour and the number of services operating on a segment (show below)
Route speed
Stop frequency
Journey planning
Demand modelling
And much more…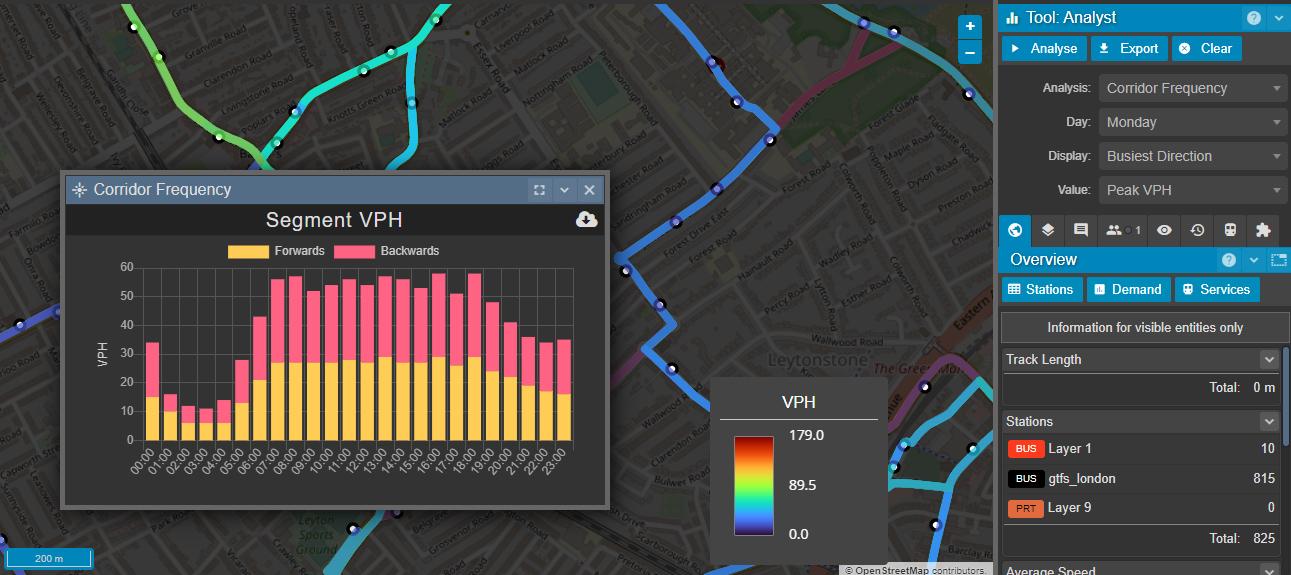 Where stop to stop coordinates are presented without detailed road shape information, Podaris can automatically create connecting points using the existing road network (or allow you to use hand-drawn infrastructure if needed).
As stated, feeds from BODS and elsewhere can be of variable quality and completeness. Podaris always attempts to extract the maximum amount of useable data from any feed, and offers a wide variety of options at the import stage in order to account for incomplete feeds.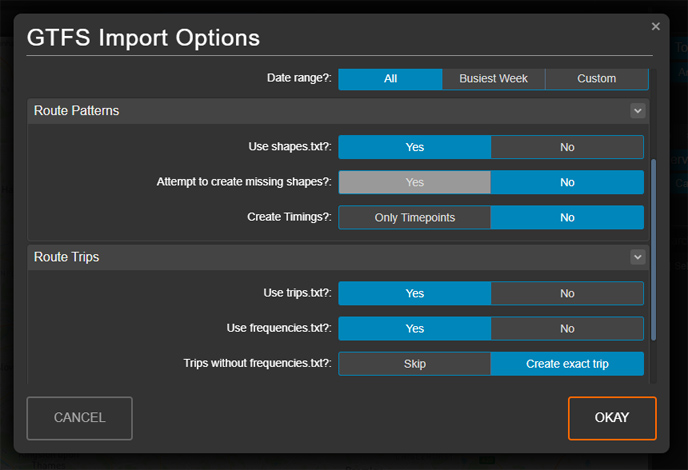 To see how Podaris can help you get the most of your GTFS and TransXChange data schedule a demo with today.