We are constantly improving Podaris in response to your feedback. With version 1.3.6, we've introduced a number of small enhancements which our users have requested.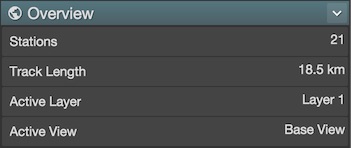 ​Now you can see the total track length of your project, by looking at the "Overview" panel. This is sensitive to which layers you have visible, so you can easily find the route lengths for different scenarios.

We've improved station rendering considerably. Stations now render in the same colour as their layer, and stations on curves now render directly on the guideway (rather than their associated control point), improving the legibility of the map. ​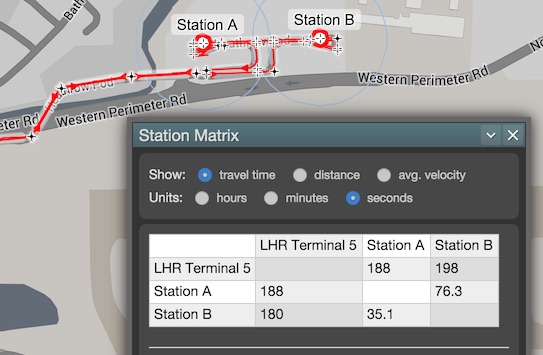 The appearance and functionality of the station matrix has been improved considerably.
Further enhancements include: ​
We now offer a free no-obligation 30-day trial of our pro accounts. Want the ability to create private projects build your own collaborative teams? Upgrade your account today!
If you have a private project but want project-specific support from the Podaris team, you can add the Podaris team without using up your quota of collaborators, by enabling project support.
Projects can now be searched via the front-page search-bar.
Comments and annotations are now searchable from within projects. Furthermore, accents and ligatures are now handled correctly (which our non-English users will appreciate)!
Grouping and un-grouping of stations is now non-destructive much more intuitive.
Guideway widths are now user-editable (for pro users).
Many user-interface, browser compatibility, and stability improvements. ​ These are all fairly modest changes, but they add up. We've got some much bigger features waiting in the wings, which we'll tell you about as soon as they're released.
In the meantime – if there's anything you'd like Podaris to do, then please let us know. We're here to make planning more collaborative, more accurate, more transparent, and – frankly – more fun. Any suggestions you make will be taken in that spirit!
Until next time, happy planning!