Described as "unlike anything seen in peacetime", the Covid-19 outbreak has turned the world of transport upside down, creating severe challenges for local authorities and transport bodies across the globe.
The pandemic is one of the biggest tests local authorities have ever faced. Now more than ever, they need the trust and support of their local stakeholder groups as they struggle to cope with the "new reality". But have they already failed? Across the UK, we have seen wide-spread erosion of trust between authorities and residents, as hastily implemented active travel interventions have been accused of circumventing consultation processes.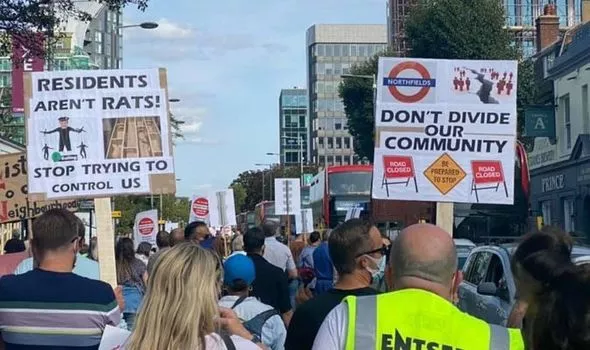 Last month in our "Agile Cycle Infrastructure Planning" post, we spoke about the importance of early and interactive stakeholder engagement. For many local authorities, the challenge has shifted from gaining trust, to regaining trust. Local authorities must now find new and effective ways of managing public perception and participation. How effectively they listen and respond to stakeholder needs and requirements will determine the future of transport in localities.
In the absence of town hall meetings, the stakeholder engagement process needs to be continuous, easily communicated, and virtual. Transport agencies, as well as municipalities, must double down on their ongoing commitment to understanding and interacting with policymakers and the wider public. This means taking unique views into account when making relevant decisions.
Effective engagement is built on meaningful communication and transparency, in times of crisis and opportunity alike. Without these things, local authorities will quickly fall out of touch with their citizens, no matter how well they are doing or how helpful they have been. More and more people continue their work remotely, even as communities around the globe begin to reopen. This means they are finding it easier to communicate online, proactively sharing more content and responding to more social media posts. Now is the time to engage these populations and set a foundation of broad-based stakeholder engagement as new policies, practices, and operations develop in response to the pandemic.
Stakeholder communications is a necessary component of sustainable long-term transport planning success. Local authorities need to ensure they are proactively addressing the interests of their communities, not only now but for the foreseeable future.
Starting in April, local authorities in England were handed new powers to hold public meetings virtually, by using video or telephone conferencing technology. Furthermore, the government has temporarily removed the legal requirement for them to hold public meetings in-person during the pandemic. In theory, this enables councils to make effective and transparent decisions on the delivery of services for residents and ensure that local democracy continues to thrive. These powers — which have been broadly replicated by many other governments around the world — apply to all local authorities, whether they are county councils, district councils, combined authorities, etc.
So according to the Institute of Place Management (IPM), there will be four different phases in the Covid-19 Recovery Framework. These can be applied to the principles of stakeholder engagement. Let's explore:
During the pandemic (First Stage) - engagement needs to involve answering questions, solving problems, co-ordinating, reassuring, providing information and generating data
Planning for Recovery (Second Stage) - plan needs to involve a capacity for recovery and transformation. This involves digitalisation, reimagining, coordination & communication, networking and capacity building, resilience mapping, prioritisation
Recovery (Third Stage) - telling a story, data, managing footfall, reacting quickly, managing social distancing
Transformation (Fourth Stage) - funding/investment, strong partnerships and delivering the vision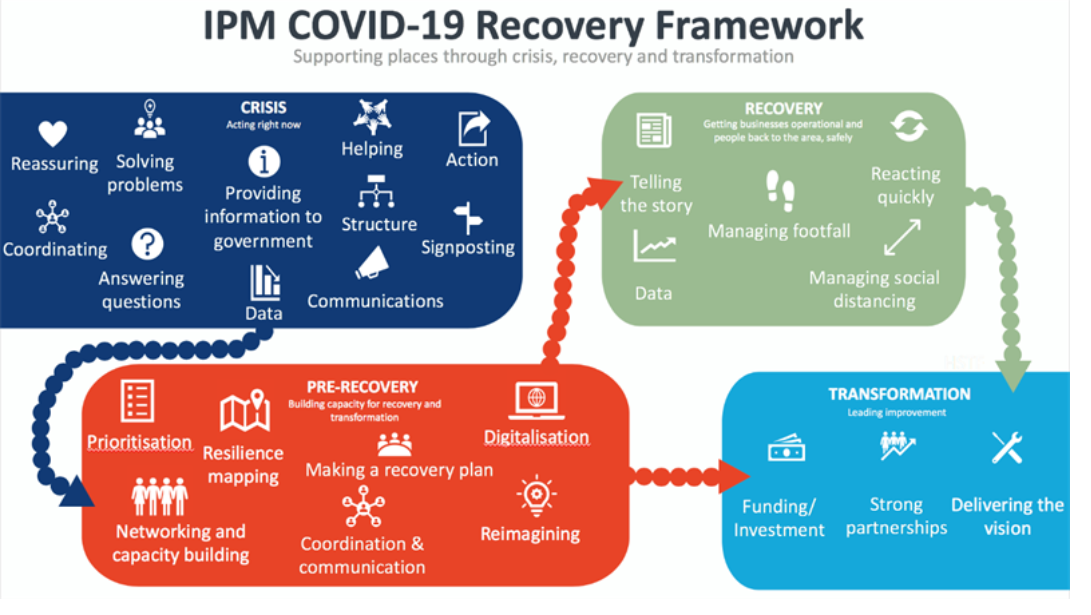 Moving Forward…
In order to embrace the possibilities inherent in digital stakeholder engagement, engagement platforms will be required to capitalise on three key principles:
That they encourage participation in a way that is democratic and open.
That they are easy to use, with minimal barriers to entry, and therefore inclusive.
That they invite engagement in a manner that captivates and motivates an audience.
With respect to openness, e-commerce has already helped to shape the view that immediate, uncensored and publicly accessible feedback should be inherent in all online interactions between providers and the public. Likewise, for any integrated planning and engagement platform to succeed, the democratic right to voice one's point of view must be entirely baked-in to the principles guiding its development.
Podaris was founded to both create and showcase compelling, collaboratively produced transport scenarios, and at the heart of its offering is Engage - an integrated stakeholder engagement tool for presenting plans and collating meaningful feedback.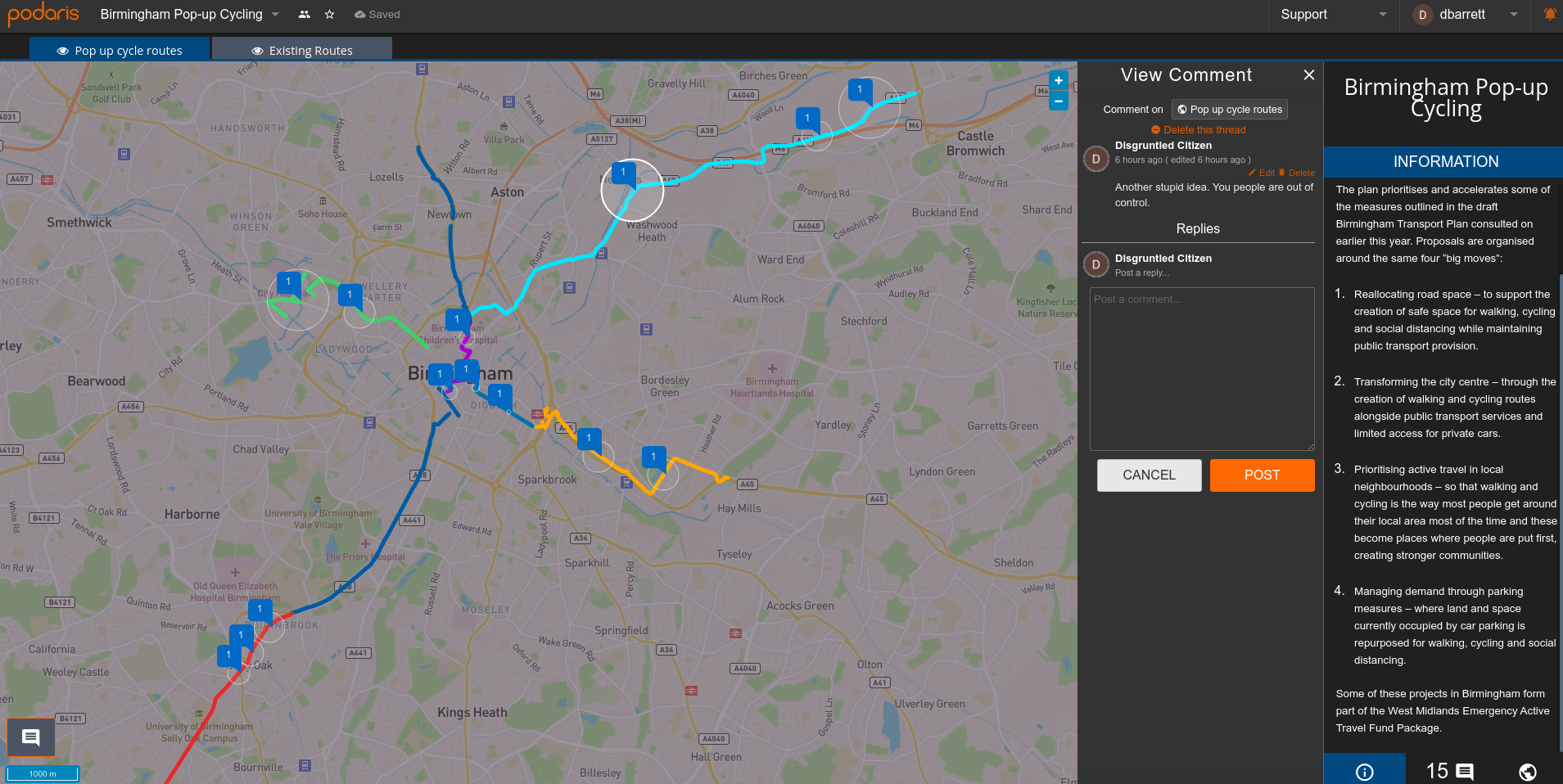 In the next few weeks, we'll be rolling out a series of dramatic updates to Engage, that will empower local authorities to showcase interactive proposals online with greater reach, clarity and transparency than ever before. It will engender ongoing conversations with the public through next-generation commenting and survey generation tools.
As Podaris is delivered entirely in-browser, there are no requirements for stakeholders entering the conversation beyond access to an internet-connected device. It promotes inclusivity by bringing the engagement process online via a simplified interface, accessible around the clock. It, therefore, eliminates the need for attendees to be present at a particular time and date. Local authorities can even embed live, interactive views of their scenarios into their own websites, helping them to frame discussions in the context of supplementary material.
All of this gives local authorities the opportunity to manage community involvement more powerfully and interactively than by a traditional town hall approach. By inviting communities to help shape the physical future of their localities in a way that furthers understanding and inspires collaboration.
To see how Podaris can work for you, book a one-on-one demo with us today!